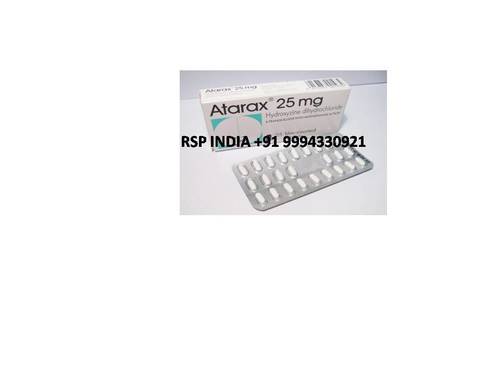 Product Description
atarax 25 mg tablets.Â
2.      Â

Atarax 25 mg Tablet is used for treatment of anxiety and symptoms of alcohol withdrawal in adults.
It is also used to relieve the itching caused by allergies and to control the nausea and vomiting caused by various conditions, including motion sickness in adults and children.rax 25 mg tablets.Â
Atarax 25 mg Tablet is an antihistaminic medication. In allergy, it works by blocking the action of a chemical messenger (histamine).
This relieves allergy symptoms such as itching, swelling, and rashes. In short-term anxiety, it works by decreasing the activity in brain, thereby helping you feel relaxed/sleepy.

Atarax 25 MG Tablet is used to reduce the inflammation in allergic conditions and used to reduce the anxiety by inducing sleep.
This medicine may cause sedation and irregular heart beats. Monitoring of liver and kidney function is necessary.

Atarax is used as a sedative to treat anxiety and tension. It is also used together with other medications given for anesthesia.
Atarax is also used to treat allergic skin reactions such as hives or contact dermatitis.
 It acts as an antidepressant and provides relief in cases of anxiety or tension.
Atarax 25 MG Tablet is also used to cure certain skin allergies. It can also be used in combination with other medications for the purpose of anesthesia.

Using Atarax 25 MG Tablet may give rise to certain minor or severe reactions. The minor reactions are shakiness, tremors, drying of the mouth, headache or migraine, hallucinations.
Contact Us
NO - 5 1st Floor South Extension, Vayalur Road, Ramalinganagar South, Trichy, Opp to KVB Bank,, Tiruchirappalli, Tamil Nadu, 620017, India
Phone :+918061882694