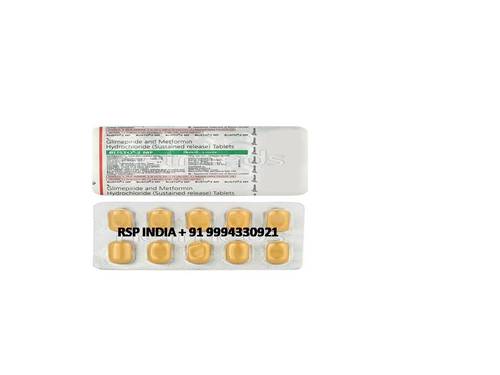 Product Description
Blisto 2 mf

Recognized as a profound enterprise, we are engaged in providing the finest grade blisto 2 mf tablets.

We are noted as a leading entity in this firm, instrumental in putting forth top grade blisto 2 mf tablets.

Blisto-2 MF Tablet is used in the treatment of type 2 diabetes.

Blisto-2 MF Tablet is a combination of two antidiabetic medicines: Glimepiride and Metformin. Glimepiride is a sulfonylurea which works by increasing the amount of insulin released by the pancreas in order to lower the blood glucose.

Metformin is a biguanide which works by lowering glucose production in the liver, delaying glucose absorption from intestines and increasing the body's sensitivity to insulin.

Uses Of Salt: Glimepiride

Type 2 Diabetes Mellitus

Glimepiride is used to control high blood sugar in people with type 2 diabetes. Controlling high blood sugar also helps in preventing kidney damage, loss of limbs, blindness, nerve problems, and sexual function problems, heart attack/ stroke. Glimepiride lowers blood sugar by causing the release of body's natural insulin.

Uses Of Salt: Metformin

Diabetes Mellitus Type 2
Polycystic ovary syndrome

Metformin is used for treatment of type 2 diabetes. Metformin works by helping in restoring body's proper response to the insulin one naturally produces. It also decreases the amount of sugar that one's liver makes and that stomach/intestines absorb.


Contact Us
NO - 5 1st Floor South Extension, Vayalur Road, Ramalinganagar South, Trichy, Opp to KVB Bank,, Tiruchirappalli, Tamil Nadu, 620017, India
Phone :+918061882694