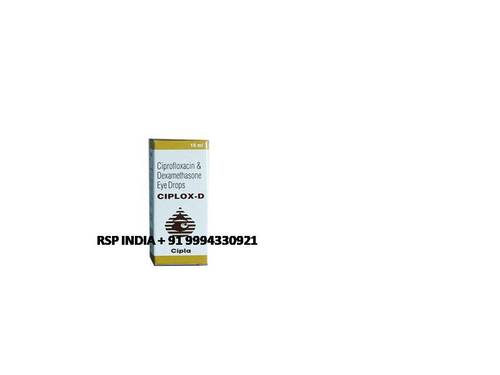 Product Description
Ciplox d eye drops

Recognized as a profound enterprise, we are engaged in providing the finest grade ciplox d drops.

We are noted as a leading entity in this firm, instrumental in putting forth top grade ciplox d drops.

Ciplox D Eye/Ear Drops is used in the treatment of bacterial infections.Ciplox D Eye/Ear Drops is a combination of three medicines: Ciprofloxacin and Dexamethasone. Ciprofloxacin is an antibiotic.

It kills bacteria by preventing them from reproducing and repairing themselves. This treats your infection. Dexamethasone is a steroid medicine.

It blocks the production of certain chemical messengers (prostaglandins) that cause redness, swelling and itching.

It is effective in treating infections that are caused by bacteria. Ciplox D Eye/Ear Drops is used to treat patients with bacterial infections such as pneumonia, anthrax, syphilis, gonorrhea, bronchitis, gastroenteritis and plague.

This antibiotic is also used to fight against infections of the throat, skin, ears, nose, sinus, bones, respiratory system and urinary tract.

ciplox eye drops and ointment are used to treat bacterial eye infections. Theywork by helping to kill the germs (bacteria) which are causing the infection.

Eye infections are a common cause of conjunctivitis. In conjunctivitis, your eye becomes inflamed, feels gritty, and may water more than usual.


Contact Us
NO - 5 1st Floor South Extension, Vayalur Road, Ramalinganagar South, Trichy, Opp to KVB Bank,, Tiruchirappalli, Tamil Nadu, 620017, India
Phone :+918061882694