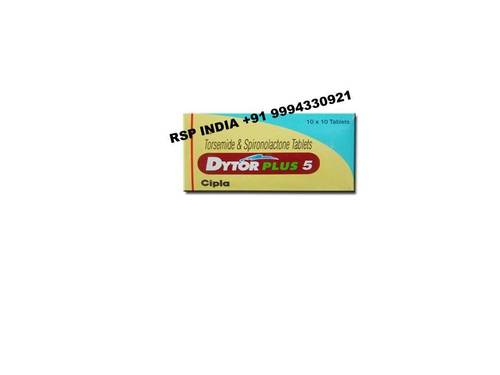 Product Description
Dytor plus 5 mg

Backed with immense domainexpertise, we have been able to offer the finest grade dytor plus 5 mg tablets.

Dytor Plus 5 Tablet is used to treat conditions of' high blood pressure, heart failure, edema' and low potassium levels.

Dytor Plus 5 Tablet is used in the treatment of oedema.

Dytor Plus 5 Tablet is a combination of two medicines: Spironolactone and Torasemide. Spironolactone and torasemide. They act on different parts of your kidney to get remove extra water and certain electrolytes, while maintaining the potassium balance in your body.

Dytor Plus Tablet is used for Accumulation of water in the body, High blood pressure, Fluid retention in liver or kidney disease, Heart failure, Swelling of lung, High aldosterone levels, Low potassium levels, Inflammation of the lung, Lung swelling, Cardiac insufficiency and other conditions.

Dytor Plus Tablet contains' Spironolactone and Torasemide as active ingredients.

Dytor Plus Tablet works by eliminating unneeded water and sodium from the body into the urine; promoting the excretion of water and salts through the urine.


Contact Us
NO - 5 1st Floor South Extension, Vayalur Road, Ramalinganagar South, Trichy, Opp to KVB Bank,, Tiruchirappalli, Tamil Nadu, 620017, India
Phone :+918061882694