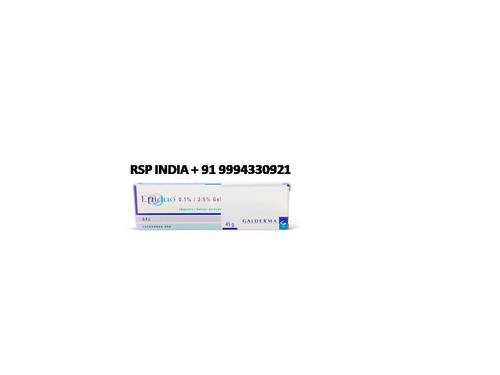 Product Description
Epiduo Gel

Epiduo Gel is used for Acne, Severe acne on face, Pimples, Spots, Keratosis pilaris, Acne vulgaris and other conditions.

Epiduo Gel contains Adapalene Topical and Benzoyl Peroxide Topical as active ingredients.

Epiduo Gel works by lowering the microcomedone formation; treating the acne and keratosis pilaris; treating acne.

This medication is used on the skin to treat acne. This medication is a combination of adapalene (a retinoid) and benzoyl peroxide (an antibiotic and skin-peeling agent).

This product may decrease the number and severity of acne pimples and promote quick healing of pimples that do appear.

Adapalene works by affecting the growth of cells and decreasing swelling and inflammation. Benzoyl peroxide works by reducing the amount of acne-causing bacteria and by causing the skin to dry and peel off.

It helps the skin renew itself. Benzoyl peroxide has an antibacterial effect. It also has a mild drying effect, which allows excess oils and dirt to be easily washed away from the skin.

Epiduo Gel belongs to a class of drugs called retinoids. It decreases the formation of blackheads and helps to renew skin faster. It helps to heal pimples quicker too by reducing skin inflammation and swelling.

If you are allergic to any of the ingredients of EpiduoGel, it is not be used. If you suffer from sunburn or eczema, its usage is not advised as well.

Adapalene reduces the growth of the keratin surface skin cells that can block pores.

This helps to unblock the pores and sebaceous glands (glands which secrete sebum) and as a result the sebum can escape.

This reduces the formation of comedones (blackheads) and spots.

In addition, adapalene increases the turnover of the skin cells, which aids the natural exfoliation of the outer layers of skin. This also helps to unblock pores and decreases the formation of comedones and spots.
Contact Us
NO - 5 1st Floor South Extension, Vayalur Road, Ramalinganagar South, Trichy, Opp to KVB Bank,, Tiruchirappalli, Tamil Nadu, 620017, India
Phone :+918061882694