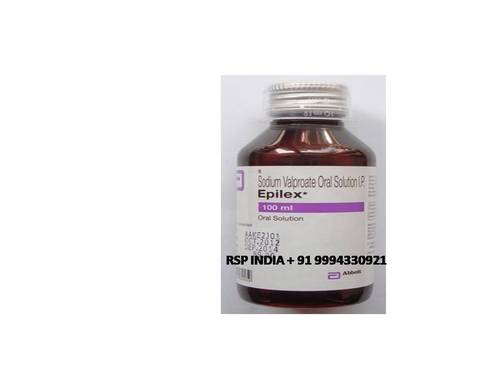 Product Description
Epilex oral solution

With an aim to provide immense satisfaction to clients, we are engaged in offering the best grade epilex oral solution.

Epilex Oral Solution is used in the treatment of seizures, migraine and mania.

Epilex Oral Solution is an antiepileptic medication. It controls seizures or fits by decreasing the abnormal and excessive activity of the nerve cells in the brain.

Divalproex Sodium dissociates to the valproate ion in the gastrointestinal tract and then binds to and inhibits GABA transaminase.

The drug's anticonvulsant activity may be related to increased brain concentrations of gamma-aminobutyric acid (GABA), an inhibitory neurotransmitter in the CNS, by inhibiting enzymes that catabolize GABA or block the reuptake of GABA into glia and nerve endings.

Valproic Acid may also work by suppressing repetitive neuronal firing through inhibition of voltage-sensitive sodium channels.

It is also a histone deacetylase inhibitor. Valproic acid has also been shown to be an inhibitor of an enzyme called histone deacetylase 1 (HDAC1). HDAC1 is needed for HIV to remain in infected cells.

The drug is an anticonvulsant, and effectively increases a certain type of brain chemical that control some seizures.


Contact Us
NO - 5 1st Floor South Extension, Vayalur Road, Ramalinganagar South, Trichy, Opp to KVB Bank,, Tiruchirappalli, Tamil Nadu, 620017, India
Phone :+918061882694