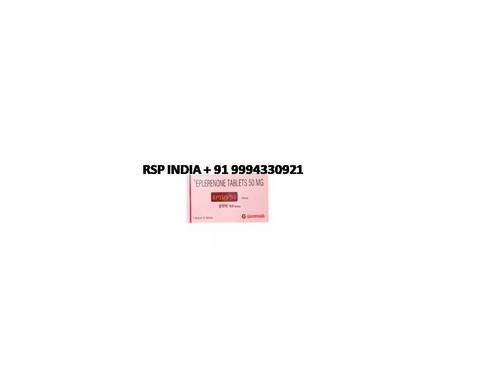 Product Description
Eptus 50 mg

We are a well-known enterprise in thisfield, engaged in offering fine grade eptus 50 mg tablets.

Owing to our wide distribution network, wehave been able to offer superior grade eptus 50 mg tablets.

Eptus 50mg Tablet is used in the treatment of high blood pressure. It treats oedema (fluid overload) associated with heart, liver, kidney or lung disease.
Eptus 50mg Tablet is a potassium-sparing diuretic. It lowers blood pressure and swelling by removing the extra water and electrolytes from the body without loss of potassium.

Eptus 50mg Tablet is used for the control, treatment and prevention of conditions such as hypertension, congestive heart failure, and left ventricular systolic dysfunction.

Eplerenone Is A Mineral Corticoid Receptor Antagonist, Prescribed For High Blood Pressure And Heart Attack. It Blocks The Action Of Aldosterone, Which Aids In The Regulation Of Blood Pressure.

Eptus 50 mg Tablet contains Eplerenone as an active ingredient.

Eptus 50 mg Tablet works by blocking the effect of aldosterone hormone that raises the blood pressure.

Potassium sparing diuretic.Left ventricular failure and/or congestive heart failure. Hypertension.

Eptus 50 containing the active ingredient eplerenone is considered an aldosterone antagonist type of medication.

The medication works by blocking the action of the natural substance aldosterone to lower the amount of sodium and water the body retains.

It can be used alone or along with other medications to treat hypertension (high blood pressure).

Lowering blood pressure can help prevent kidney problems, strokes and heart attacks. It can also be used to treat chronic heart failure in people who have recently had a heart attack.



Contact Us
NO - 5 1st Floor South Extension, Vayalur Road, Ramalinganagar South, Trichy, Opp to KVB Bank,, Tiruchirappalli, Tamil Nadu, 620017, India
Phone :+918061882694